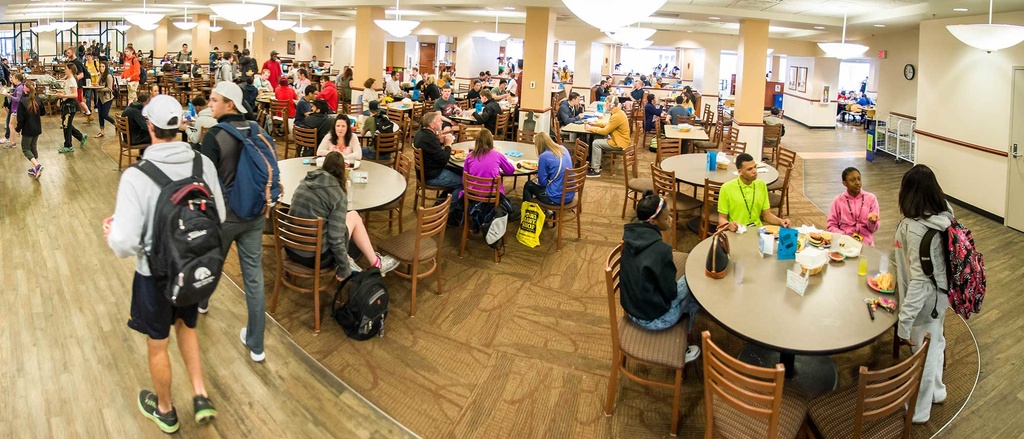 What is Hawkeye Meal Share?
Hawkeye Meal Share is an initiative that gives undergraduate, graduate, and professional students the opportunity to donate their unused guest meal swipes online to any undergraduate, graduate, or professional student in need at the University of Iowa. Students experiencing food insecurity will be able to receive meals by contacting Student Care & Assistance in the Office of the Dean of Students. All of this is possible thanks to the collaboration of the Office of the Vice President for Student Life, Office of the Dean of Students, University Housing & Dining, University of Iowa Student Government (UISG)/Graduate and Professional Student Government (GPSG), Food Pantry at Iowa, Associated Residence Halls, and the charitable students of the University of Iowa.
What is Food Insecurity?
Food insecurity is the lack of access, or financial resources to access, a sufficient amount of quality, affordable, and nutritious food. Access to quality food is important for college students in order to maintain a healthy lifestyle and be successful in and out of the classroom. Additional information regarding food insecurity and University of Iowa students, faculty, and staff, can be found on the Food Pantry at Iowa website.
Donate Meals
Students wishing to donate meals can do so by clicking on the Donate Meals button below. You will sign onto the University Housing and Dining Hawkeye Meal Share portal and enter the number of unused guest meals you want to donate. Donated meals will be carried over each semester to ensure access to meals for all students throughout the year.
Donate funds
If you do not have a meal plan but would still like to contribute, click the Donate Funds button below, then enter the amount you would like to donate and under gift instructions enter "Meal Share".
Request meal assistance
If you are a University of Iowa student experiencing food insecurity, you can request assistance through the Hawkeye Meal Share program by filling out a short form at the request link below. Student Care & Assistance will contact students to discuss support, eligibility, and the process for obtaining meal assistance. If you have an immediate need, please call or stop by the office, otherwise requests will be responded to within 24 hours.
Contact
For questions or to discuss the Hawkeye Meal Share Program, please contact Steph Beecher in Student Care & Assistance by email at dos-assistance@uiowa.edu or phone 319-335-1162. Student Care & Assistance is located in the Office of the Dean of Students in 135 Iowa Memorial Union.
Additional resources
Food Pantry at Iowa
Locations: East Pantry (278 IMU) and West Pantry (Pride Alliance Center)
Hours: Please visit the website for the most updated hours of operations.
Websites: https://imu.uiowa.edu/imu-services/food-pantry-iowa, https://www.facebook.com/foodpantryatiowa/
Unsure what to expect if you've never been? Check-out the informational video with walk-thru! https://www.youtube.com/watch?v=FEsXKYfFsKI
Restrictions: Need to present a University of Iowa student, staff, or faculty ID
CommUnity Crisis Services and Food Bank
Location: 1045 Highway 6 East, Iowa City, IA 52240
Hours: See website
CRISIS LINE: (319) 351-0128
Website: https://builtbycommunity.org/foodbank/
Restrictions: Residents of Johnson County, IA
Coralville Community Food Pantry
804 13th avenue Coralville, IA 52241
Hours: Tues 2:00 - 6:00 pm, Thurs 10:00 am - 12:00 pm, Sat 10:30 am - 1:00 pm
Website: coralvillefoodpantry.org
Restrictions: Residents from Coralville, Tiffin, or Oxford
North Liberty Community Food Pantry
Location: 89 North Jones Boulevard North Liberty, Iowa 523317
Hours: Mon/Wed/Sat 10:00 am - 12:00 pm, Tue/Thurs 10:00 am - 12:00 pm & 3:00 - 6:00 pm
Website: https://northlibertycommunitypantry.org/
Restrictions: Residents from Iowa City and Coralville receive limited services
Solon Community Food Pantry
Location: 122 N West St., Solon IA 52333
Hours: Mon 2:00 pm - 6:00pm
Website: https://soloniaumc.churchtrac.com/
Restrictions: none
The River Community Church Food Pantry
Location: 3001 Muscatine Ave, Iowa City, IA 52240
Hours: Wed 12:00 pm -5:00 pm
Website: https://www.therivercommunity.org/